By Jeanna Ford, Native Forward Alumna
"There is little argument that education is crucial to Native self-determination and preservation. Graduating high school and pursuing higher education is an event celebrated across Tribes, cultures and generations." – Sara Barnett Nsakashalo, Native Forward Alumna
However, the shift from home life to a university can lead to cultural shock, feelings of being overwhelmed, and even feelings of depression, which is why industry experts like Sara Barnett Nsakashalo and Dr. Heather Shotton dedicate their careers to supporting Native students embarking on their higher education journey.
Native Forward Scholars Alumna Sara Barnett Nsakashalo (Muscogee Creek Nation) serves as the director of the Center for Tribal Studies at Northeastern State University. She holds a Bachelor of Arts in psychology and a Master of Education in school counseling and is currently pursuing her doctorate from the University of Arkansas in Fayetteville.
A first-generation college student herself, Barnett Nsakashalo remembers feelings of disparity and being overwhelmed – which is why she aspires to support Native students.
"I hope to be the same role model, mentor, guide, support person and advocate for our Native students and secure additional resources to provide them with an even better experience than I had," Barnett Nsakashalo said.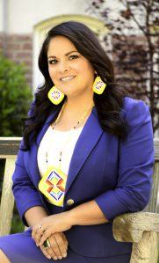 Dr. Heather Shotton, Native Forward Alumna
Native Forward Alumna Dr. Heather Shotton (Wichita and Affiliated Tribes) is the director of Indigenous Education Initiatives for the Jeannine Rainbolt College of Education and an Associate Professor in Educational Leadership & Policy Studies at the University of Oklahoma. She holds a doctorate in Adult and Higher Education also from the University of Oklahoma.
Shotton's interest in higher education began in her senior year of college when she chose to examine Indigenous students' experiences in the university administered peer mentoring retention program.
"When I went to college, that was the first time I had an Indigenous professor or met an Indigenous person with a Ph.D.," Shotton said. "It was the first time I remember truly feeling seen and it changed everything for me. The visibility of Indigenous scholars helped me to imagine new possibilities, and the love, support and encouragement I received from those professors is what ultimately pushed me to pursue a Ph.D."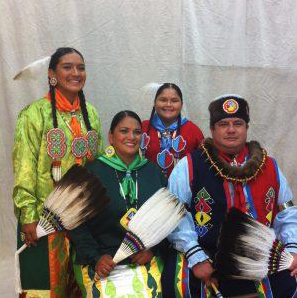 Dr. Shotton and Family 
Mentorship is a key component both professionals share as a means for student success. Because of the support she received, Shotton seeks mentorship opportunities with Native students.
"I recognize that our Indigenous students already possess so much knowledge and power that they express in different ways," Shotton said. "I try to always work from that position and focus on honoring and amplifying the power that they carry."
Barnett Nsakashalo, also offers mentorship opportunities. "These conversations may not occur sitting across from them at a desk but rather in the kitchen around a dinner table while practicing beadwork, making moccasins, or sitting around the firepit," Barnett Nsakashalo said.
Shotton also emphasized the importance of finding resources on your campus, such as Native Student Services offices, Native Cultural Centers, and Native Learning Communities. These organizations and programs are dedicated to specifically supporting Native students.
"When there is both a recognition of the need for these services and a strong and sustained commitment to serving Indigenous students, then these resources are absolutely effective in helping Indigenous students succeed," Shotton said.
Barnett Nsakashalo reflected on her own journey, where she found a support system in the Center for Tribal Studies, the Native student organizations on campus, and discovered Native staff who provided guidance, support, and mentorship. Through these support systems, she found she was able to reach out of her comfort zone. For her, the most effective college programs are those with a comprehensive approach.
"The foundation of our communities is relationships, and this is key in supporting students reach their academic goals," Barnett Nsakashalo said. "We must provide spaces to which they can bring their whole true self. Helping them navigate through the loss of a family member, a financial crisis, homesickness and other non-academic situations are equally important as checking in on them after a difficult midterm exam."
Through mentorship, on-campus resources and communities, Native students can access tools and strategies to excel in higher education. For additional support, students are invited to contact Native Forward at 505-881-4584 or visit our Student Resource Center.
Read more articles like Tools for Navigating Higher Education in the Fall 2020 edition of Native Forward Magazine.