Turtle Guide
The turtle is seen as strength and solidarity, is old, wise, well respected and teaches us patience and never to give up. Together the Turtle Guide to College Map/Poster and Booklet are step by step guide to assist you on prepping for College.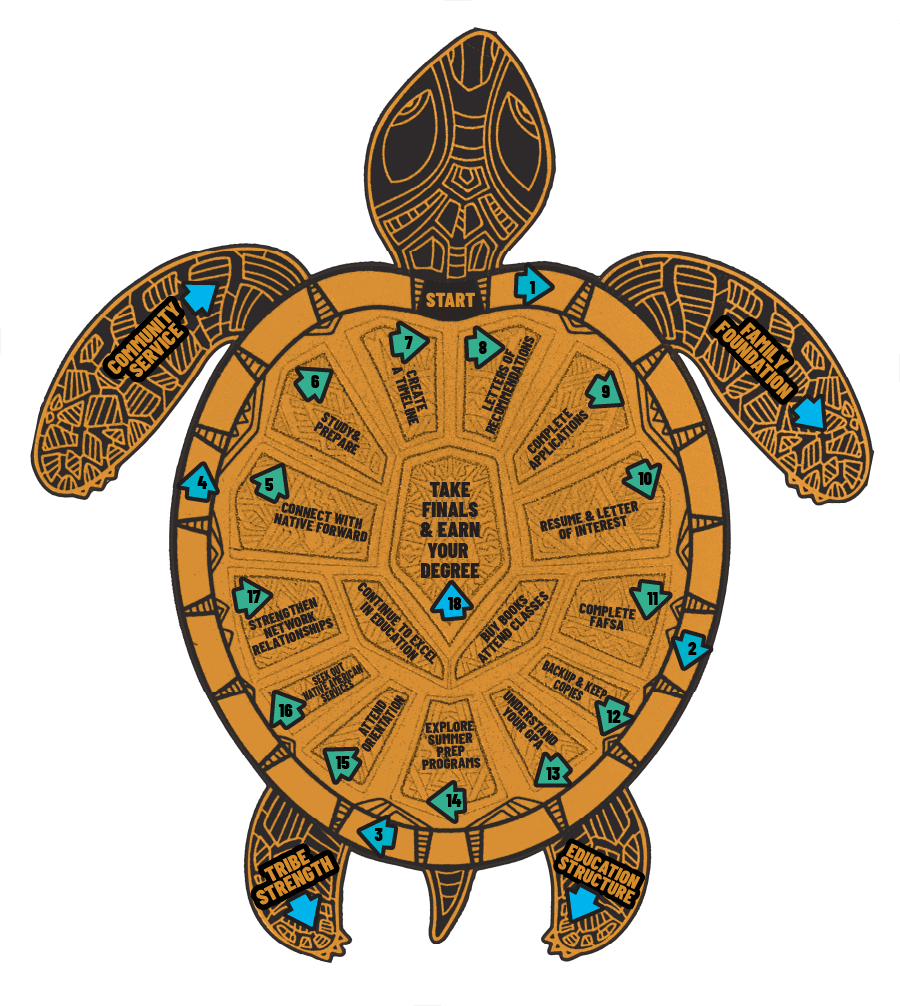 Preparing for College
Have a conversation with your family about attending college and have open communication about this new transition.
Plan for home visits if attending college out-of-state and find one that fits your family.
Think about your skills and talents and how they can translate into a rewarding school journey.
Maintain strong connections with family and friends at home.
Use free services available in your community.
Preparing for College
Continue to improve your grades.
Learn or be open to adapting to different teaching styles.
Continue to focus on your educational goals.
Improve writing, grammar, and spelling.
Maintain your physical and mental health.
Preparing for College
Improve study habits and note-taking skills.
Attend tribal meetings or events.
Challenge yourself by meeting new people.
Take AP courses if offered.
Attend college or career fairs.
Preparing for College
Get involved in your school's community.
Meet with your school counselor about the next steps.
Manage your time well.
CONTINUE >>
Connect With Native Forward
Connect with Native Forward to explore scholarships.
Native Forward Scholars Fund offers a variety of scholarships for undergraduate, graduate, and professional degrees.
Scholarship Finder
Study & Prepare
Study and prepare for the ACT or SAT testing.
Some colleges and universities require students to take the ACT or SAT as part of the application process
Create a Timeline
Create a spreadsheet for scholarship information and important deadlines.
Impose your own deadline that is at least two weeks prior to the official deadline.
Letters of Recommendation
Ask trusted colleagues to recommend you for scholarships.
Narrow college choices to your three top schools.
Choose a nominator/recommender early and choose a person who knows you well.
Complete Applications
Complete all applications prior to official deadlines.
Make sure to proofread and edit all scholarship applications before submitting them.
Resume & Letter of Interest
Brainstorm and write a personal resume and letter of interest
The letter of interest should tell the reader who you are, what motivates you to pursue higher education, and why you want to attend their school.
Complete FAFSA
Complete FAFSA
Complete a FAFSA each academic year you plan to attend college. Applications open on October 1 of each year and apply early. Applying for Financial Aid
Report income information for the appropriate tax year, FAFSA now utilizes prior-prior year (PPY) tax information, and tax information reported should be from two years ago.
Report every college or university which you plan to apply for admission.
Backup & Keep Copies
Make and save copies of documents you submit to schools or organizations.
Keep a backup file in case anything goes wrong and before sending applications, make a copy of entire packets.
Understand Your GPA
Understand how your GPA is calculated on your transcript.
Grade Point Average (GPA) is a way of measuring the overall academic performance of students. GPAs can be used to determine your eligibility for scholarships or the right career after college and more. The higher your GPA, the better chance you have of getting into the college of your dreams. Generally, unweighted GPA scales are commonly used – a 4.0 is the highest GPA you can earn and 0.0 is the lowest.
Explore Summer Prep Programs
Explore summer bridge college preparatory programs.
Preparatory programs are meant to ease the transition into college by providing support services to set students up for success. It's also an opportunity to network with people.
Visit and familiarize yourself with your chosen school's campus.
Attend Orientation
Attend "New Student Orientation."
Take advantage of resources. Get academic advisement before registering for classes.
Associate with friends who can serve as healthy role models that will make a positive contribution to your growth, development, and education.
Seek Out Native American Services
Look for any American Indian or multicultural services at your chosen school
Establish a presence there and continue to build relationships.
Strengthen Network Relationships
Continue to build strong relationships with your networks.
During College
Attend the first day of classes and buy any necessary books.
Continue to excel in your educational journey.
Take finals and earn your degree.
Community Service
Become actively involved in local activities and organizations that contribute to the quality of life in your community.
Get involved in local, regional, state, and national issues, or organizations that impact your community
Family Foundation
Learn all you can about your family, kinship relations, and community history and cultural heritage.
Participate in traditional activities with parents, elders, and other members of the community and learn the stories and lessons associated with those activities.
Show respect to the elders in your community by assisting them in any way you can.
Education Structure
Parents are the first teachers of their children and provide the foundation on which the social, emotional, intellectual, and spiritual well-being of future generations rests.
Tribe Strength
Understand the world around you and how it has changed including the interconnectedness of human, natural, and spiritual realms.
Listen and learn from others and pass on your knowledge.
Practice and reinforce traditional values and appropriate behaviors in everyday life.
Participate in storytelling opportunities or other cultural activities as a way of learning values and traditions.