As the COVID-19 pandemic wreaks havoc across the United States, Native communities are facing disproportionate impacts and the need for Native political visibility and advocacy has become even greater to ensure Tribes are not only considered but are justly included within federal responses.
Alvin Warren, Benny Shendo Jr., Kimberly Teehee and Susan Allen are among countless Native leaders who are using their political knowledge and platforms to advocate for competent COVID-19 responses in Indian Country. When asked about where their journey of service and advocacy on behalf of Tribes began, they each point to the instances in which they knew their life calling was service. 
Native Forward Alumnus Alvin Warren (Pueblo of Santa Clara) serves as the Vice President of Career Pathways and Advocacy at the Las Alamos National Laboratory Foundation and previously as a Lieutenant Governor of his Pueblo and Cabinet Secretary of Indian Affairs for the State of New Mexico. A pivotal moment for him, he recalled, was when his paternal grandmother passed away. Having already decided that he wanted to return to his community after college, Warren questioned how he could be of service to his community while he was still in college.
Knowing he could offer his research skills to assist his Tribe in reclaiming land, Warren answered the call to serve, a strong feeling he described as, "This obligation, this responsibility, to go and to learn and to come back, to make a contribution." 
For Native Forward Alumna, Kimberly Teehee (Cherokee Nation), it was the influence of her mentor Wilma Mankiller, the first woman Principal Chief of the Cherokee Nation. Mankiller encouraged her to pursue a path of political service and advocacy. Since then, Teehee has gone on to serve as the senior vice president of Government Relations for Cherokee Nation Businesses, executive director of Government Relations for the Cherokee Nation, newly app-inted Cherokee Nation delegate to the U.S. House of Representatives and former Obama Administration appointee. 
"Wilma said to me, 'Go off to DC and learn to do those things and bring the skillsets back because the Tribe will always be here,' Teehee said, "and here I am."
Like Teehee, Native Forward Alumna, Susan Allen (Rosebud Sioux Tribe), an attorney who was the first Native woman to serve in the Minnesota state legislature from 2012 to 2019, was fortunate to grow up around and learn from influential Native leaders such as Dennis Banks and Vine Deloria Jr. as her parents moved throughout Indian Country to fight for social justice and religious freedom.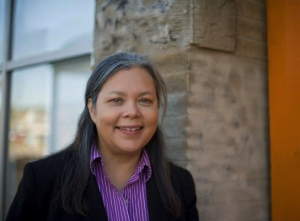 Susan Allen, Native Forward Alumna – Credit: Mary Hanson Photography
Allen credits her service-minded parents for sparking her passions for service and advocacy. "All of that, I learned from my parents. I thought it was a powerful way of being, you were a part of the community and whatever you could offer you did and when asked to do something, you do," Allen said. 
Also following his family's footsteps, Benny Shendo Jr., (Pueblo of Jemez), current New Mexico state senator as well as former first and second Lieutenant Governor of his Pueblo and Cabinet Secretary of Indian Affairs for the State of New Mexico, I grew up in that environment knowing that my time was going to come," Shendo Jr. said.
As civil servants and advocates, each has come to understand their political knowledge and visibility can be a powerful tool for Tribes, especially during the pandemic while some Tribes reach high infection rates in the thousands — like the Navajo Nation which, at the time of drafting this article, tallied almost 8,000.
"I think the visibility of Native people is crucial at this time — both to understand the history of disinvestment, the history of neglect, that have led to the disproportionate impacts, but more importantly that individuals at every level of government are accountable for making sure Tribes are a part of every discussion in terms of recovery," Warren said.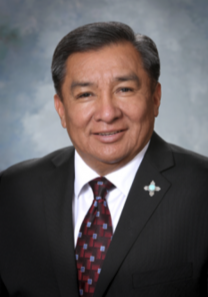 Benny Shendo Jr. 
"We're about 10 to 11 percent of the population but we represent almost 50 percent of COVID cases; that should tell you something… This pandemic, it magnified the issues that weren't being addressed," said Shendo Jr. on the Tribal COVID-19 experience in New Mexico.
Indeed, high infection rates are not by happenstance. Tribes have been historically underfunded and underserved by the U.S. government which has led to the invisibility of Native issues. This invisibility has led to disparities that have heightened COVID-19 impacts in Indian Country, such as failing infrastructure, elevated levels of pre-existing conditions, inequities in healthcare quality, capacity and access, inadequate broadband access, potable water access, and housing, and food insecurity, among other factors.
While news headlines made no mention of the unique struggles Natives faced in the wake of the pandemic, the first two COVID-19 economic relief packages released ignored Tribes. Native leaders and community-led volunteer efforts sought to make visible how and why COVID-19 was disproportionately impacting Tribal communities, yet Native communities were being erased through data. 
"It is disheartening but not surprising that when we started to finally hear about desegregation of data about who was being impacted by COVID, some of the very first figures coming out didn't include Natives," Warren said. "We were back in that 'other' category." 
COVID-19 data regarding Natives continue to be incomplete as data collection methods and racial classification protocol vary by jurisdiction.
"In the time of COVID is when we realize the visibility piece and the effort it takes to get included in a big comprehensive package… it requires all of us to yell collectively," Teehee said. 
Teehee commended organizations such as the National Congress of American Indians (NCAI) for being able to assist Tribes in providing input to ensure there would be Tribal provisions included in the Coronavirus Aid, Relief and Economic Security (CARES) Act. 
Through a unified front, Tribal leaders, Tribal organizations, and champions within Congress were able to advocate for Tribal needs and secure $8 billion in Tribal funding which was a compromise compared to the initial $20 billion requested. However, full funding has still not been distributed to Tribes. 
"When we're given the resources to take care of our own," Teehee said. "We stretch dollars and make the best use of our dollars than probably anybody because we are so under-funded. We have our champions and we lean on them greatly, but we need more champions."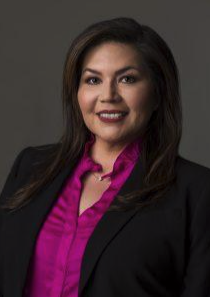 Kimberly Teehee, Native Forward Alumna
"We don't have the JLos and the Michael Jordans in our communities – not at that level. We rely on our elders, our parents and our elected leaders to be our mentors. We have to work harder to have an impact on people's lives and hopefully, somebody can see that person as their kind of JLo."
In addition to Native leaders utilizing their platform to inspire more Native political visibility, Warren added how important it is for Native people to believe in themselves and know they are capable to serve and lead by imparting wisdom he learned firsthand. 
"In a way, not all of us or maybe none of us have the full knowledge we need to enter these positions but we answer the call. That's part of why we are still here as Native people — it is the sacrifice generations have made, they stepped forward to take on responsibilities that perhaps they didn't believe they could handle themselves. With our beliefs, with the power of our prayer and everything we have in our cultures and the support of our people around us, we learn and we rise to the occasion," said Teehee.
Read more articles like Recognizing Native Voices in Politics in the Fall 2020 edition of Native Forward Magazine.