Stormee Lee Kipp, Shoshone-Bannock, and Blackfeet speaking on the "Indigenous Actors in Film" panel at the National UNITY Conference in Minneapolis, Minnesota in June 2022.
By David Weber and Alyssa Bitsie
The recently released film based on the Predator franchise, "Prey," was released on Hulu in July and has since, been making waves in Indigenous communities across the nation. The film is the fifth installment and prequel to the first four films. So far, it's had a successful debut because it's a big step in the right direction for Indigenous representation in films. Stormee Lee Kipp (Shoshone-Bannock and Blackfeet) spoke on a panel for, "Indigenous Actors in Film," at UNITY's 2022 National Conference in Minneapolis, Minnesota. Native Forward sat down with Kipp to get his take on Native representation in film and life outside of being an actor.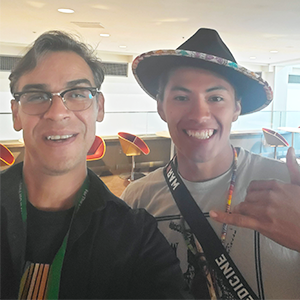 Kipp plays Wasape and says he's seen how other Tribes are poorly portrayed in Hollywood and because of that, it inspired him to address it in his own way. "When this opportunity came to me, I said, 'All right, I'm going to try my best at it and I'm going to do my best to portray the Comanche people as best as I can,'" said Kipp.  
According to Looper, prior to its release date, the film made history in Hollywood, due to its mainly Indigenous cast. Kipp said he got into shape for the role because warriors back then were, "solid looking." He also researched the Comanche Tribe to be certain he represented them well allowing for the acting to come through.  
Kipp also said that for weeks prior to shooting, the cast went through a training camp for battle tactics like knife and tomahawk fighting and bow shooting. Sign language was also taught and used in the film and the production team was working hard to be historically accurate. "So there's a whole thing behind that – we're not doing it cause it looks good, we're doing it cause it is how you would do it," said Kipp.   
Off the set, Kipp is a senior at the University of Montana working towards his history degree with an emphasis on Central Asia. Kipp credits his history professor for his decision to study Central Asia. After graduation, he says he has a few options to weigh: attend the University of California – Berkley for graduate school, continue acting, or continue running his newly found business, Crypto Mining Equipment.   
"I'm really, I'm just trying my best honestly. Yeah, I said there's this word that in my language, it means a lot to me, and I try to perform to the best of my abilities," Kipp said, "Anything I try to do, any endeavor, I try my best. And as a result of trying that for years, I mean I failed a lot of times too but with that, you know, you win sometimes so with all that success, I try to help the people out as much as I can cause honestly I was, couple years back I was in the stands sitting, watching everyone else in UNITY, and now I'm on the stage; so full circle – it's pretty cool."