Journey to Series | Episode 3: Business School
November 13 | 1:00 PM

-

2:00 PM

MST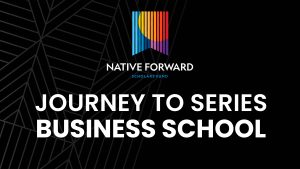 Join Native Forward Scholars Fund for the third episode of our Journey to Series!
The four-part webinar series will feature alumni, faculty, and staff and their professional journeys through school, what to expect, and more. Gain invaluable insights and resources to help you navigate your academic journey while learning about the admissions process for law, medical, business, and art schools.
This episode will feature Native Forward Alumnus and Former Board Member David Mahooty (Zuni), Executive Director of American Indian Business Leaders Prairie Bighorn-Blount (Fort Peck Sioux Tribe), and tenured Associate Professor of Management at Gonzaga University's School of Business Administration Dr. Rebecca Ann Bull Schaefer. They will discuss programs and specializations offered by business schools and more.
About the Speakers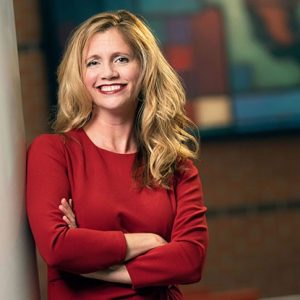 Dr. Rebecca Ann Bull Schaefer is a tenured Associate Professor of Management at Gonzaga University's School of Business Administration. She earned her B.S. in Business Administration from Bradley University and her Ph.D. in Organizational Behavior and Human Resource Management at Purdue University. Her professional experience is in direct sales, business development, recruitment, and team-building consulting. Rebecca's research focuses on employee reactions to HR-related policies and how those reactions affect personal and professional decisions.
Currently, Bull Schaefer serves as the MBA (Master of Business Administration) Programs Director for the Graduate School. She oversees the design and administration of the MBA-AIE (American Indian Entrepreneurship), MBA, and MSBA (Master of Science in Business Analytics) programs at Gonzaga. The MBA-AIE program is a two-year cohort model that brings together native and indigenous students from different tribes across the country. Students take courses online and attend tri-annual immersions to build community and tour native-owned businesses. Instructors include a combination of native and non-native experts to teach on current issues faced in Indian Country and domestic and international economies.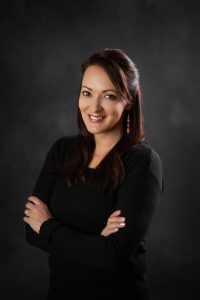 Prairie Bighorn grew up on the Northern Cheyenne reservation in eastern Montana and is an enrolled member of the Fort Peck Sioux Tribe. She graduated from Rocky Mountain College, with a bachelor's degree in business, and from the University of Montana, with a master's degree in business administration. While she was in college, she was an active AIBL chapter member and also worked for the National AIBL office during her graduate studies.
Before joining the AIBL team, she worked in Washington, DC, providing accounting and contract management services to help support economic development within American Indian communities. She has also served as the comptroller for the Northern Cheyenne Tribe in Montana and worked for an auditing firm specializing in governmental compliance.
In 2011, she was a recipient of the National Center for American Indian Economic Development's 40 Under 40 Awards. This prestigious award recognizes 40 emerging American Indian leaders who have demonstrated leadership, initiative, and dedication and made significant contributions in business and their communities.
In her spare time, she enjoys running, snowboarding, reading, starting new businesses, and hanging out with her family.
David Mahooty has over 20 years of experience in financial management, accounting, gaming and financial services industry serving in the private sector, as well as in State and Tribal government. Growing up on the Zuni Tribal reservation, David was the first from the Tribe to attend high school at New Mexico Military Institute on the New Mexico Legislative Scholarship program. Mr. Mahooty then went on to pursue a B.A. in Economics and an MBA from the University of New Mexico. David's career started at Wells Fargo Bank, underwriting loans for commercial clients to where he most recently served as Chief Financial Officer for the New Mexico Office of the State Treasurer helping manage $10 billion in liquidity for the State. As CFO, he was also responsible for the agency's procurement, budget and served as pay agent for the State's bond indebtedness. Mr. Mahooty currently serves as the Director of the Office of Budget and Performance Management-Indian Affairs within the U.S. Department of Interior as of July 2022. David volunteered by serving as Board Treasurer and Chairman of the formal American Indian Graduate Center (nka the Native Forward Scholars Fund) from 2006 to 2012 as a means of giving back and fostering opportunities with education. For fun, Mr. Mahooty enjoys camping, fishing, hiking, golf, Ford Mustangs and the San Francisco 49ers.
Webinar recording coming soon!