Whether collecting data in the forest or in the laboratory sequencing genomes, reciprocity, humility and consent are values and methods that are critical to translating Indigenous knowledge systems into western science, according to Indigenous scientists.
Alternatively known as Decolonizing Science, it means to acknowledge how colonial thinking is not supreme, but rather secondary to Indigenous cultures, languages and societies. And that also means to immediately stop extracting information without reciprocal consent. 
Just ask American Indian Graduate Center Scholars Christopher Villarruel (Ajumwawi Band of The Pit River Nation) and Krystal Tsosie (Diné), who know from their experiences studying natural resources and genetics at their respective universities, and Dr. Robin Wall Kimmerer (Citizen Potawatomi Nation), scientist, professor and author of Braiding Sweetgrass, which is a memoir of collective knowledge that verifies the claims of both Villarruel and Tsosie through Indigenous wisdom, scientific knowledge and the teachings of plants.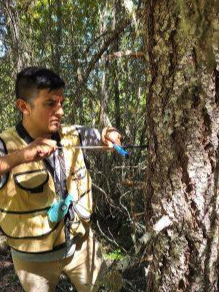 Christoper Villarruel, Native Forward Scholar Alumwawi Band of The Pit River Nation
Villarrueal is a senior studying forestry with a concentration in hydrology, at Humboldt State University. So far in his academic career, he is already experiencing the dichotomies of Traditional Ecological Knowledge and western science. Forestry has taught him how categories of specialization by discipline has a limitation, as compared to Indigenous views on science.
Villarrueal sees these differences when he looks at Grandfather Fire from a cultural view. In the forestry academy's view, Grandfather Fire is taught as being wild and destructive. To an Indigenous person, like himself, fire – one the most valued and sacred elements – has many different forms. In fact, he said, fire is a life force and tool from Creator/Intellectual Designer to help humans rebalance nature. He appreciates the knowledge of Yurok Tribal members for teaching him these values during a recent firefighting certification course to help with his studies. This coming spring, he will graduate with his bachelor's degree in forestry.
"The way that our forests are ran by the U.S. government and U.S. Forest Service is an extension of colonization," Villarruel said. "They defend the forest from their point of view. It will never be correct without including us into the equation as stewards and our connections to the land."
There is only so much the classroom and laboratories can teach, he added, before explaining that in 2021 the world needs to consider Indigenous approaches to natural science, because solutions to the planet's issues like climate change are embedded in Tribal history, culture, language and knowledge.
At Vanderbilt, Tsosie's breadth of study has allowed her to take matters into her own hands and empower Indigenous communities by letting them know it is okay to decline health research studies in their communities. Tsosie speaks from her years of study, where she achieved her undergraduate degree in microbiology and a master's degree in bioethics from Arizona State University, and a master's in public health epidemiology at Vanderbilt University. She is now in her fourth year of her Doctor of Philosophy program in genomics and health disparities, also at Vanderbilt.
As a Diné person, she also sees how Indigenous peoples have always been scientists, and that it is important to reclaim science by reorganizing worldviews where Indigenous knowledge is first.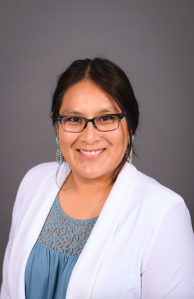 Krystal Tsosie, Native Forward Scholar – Diné
"We were always geneticists before 'western science' infiltrated our communities," Tsosie said. "We had our own ways of knowing and understanding natural phenomenon that is wisdom and knowledge passed on from generation to generation. That wisdom is now known as the scientific method."
In the field of genetics, she said, it is also important for Tribal governments to decline any research proposals that may compromise its peoples. The word "if" she said, is critical to her studies as a new genomics scientist.
For the future of protecting Indigenous culture and wisdom, both Villarruel and Tsosie know that calling out colonialism in their academic disciplines is necessary. In other words, the western science world is only recently starting to catch up.
In Braiding Sweetgrass, Wall Kimmerer writes about the value of reciprocity and reaffirms the thinking of Villarreul. Reciprocity not just in the western science disciplines, but throughout humanity. There is urgent need to shift values from capitalism and exploitation to save Mother Earth and Father Sky, she writes. 
Wall Kimmerer added that gifts of reciprocity are not happening enough, and that according to Anishnaabe culture, it is up to humans, more than ever, to find and reclaim their behaviors to align with the Seven Fires Prophecy – a truth that tells the phases of life for the people of Turtle Island.
"The moral covenant of reciprocity calls us to honor our responsibilities for all we have been given, for all that we have taken," she said. "It's our turn now, long overdue. Let us hold a giveaway for Mother Earth, spread our blankets out for her and pile them high with gifts of our own making. Whatever our gift, we are called to give it and to dance for the renewal of the world."
Read more articles like 'Translating Science' in the Spring 2021 edition of Native Forward Magazine.